The centenary of the start of the military phase of the Gallipoli campaign on 25 April 1915 will be well commemorated in Australia and New Zealand, as might be expected. Although many thousands of Irishmen served at Gallipoli and died there, the campaign is not well known in Ireland and has not been widely commemorated there. In recent decades ex-pat Australians and New Zealanders have conducted ceremonies in Dublin on the anniversary of the landing at Grangegorman Military Cemetery and at St Ann's Church in Dawson Street. This year, however, with the centenary of the campaign, a number of events in Ireland will mark the occasion.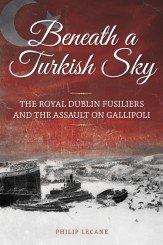 One in particular should attract considerable interest. At 3pm on 25 April 2015 at the Dublin City Library and Archive, 138-144 Pearse Street, Philip Lecane will give a talk entitled "Beneath a Turkish Sky: The Royal Dublin Fusiliers and the Assault on Gallipoli" This is the title of Philip's forthcoming book which is scheduled for publication in June by The History Press Ireland. It is not widely known that during the landing at V Beach at Cape Helles the Irish suffered more casualties than did the Australians and New Zealanders in their landing at the beach at Anzac Cove.
Other events include the "Gallipoli 100" conference In Kells, County Meath, on 24-25 April 2015 in St Columba's Church of Ireland church in Market St and a wreath laying ceremony at the Mayo Peace Park in Castlebar. No doubt there will be many others.
In addition, the History Hub at University College Dublin is publishing a six-part series of podcasts on the Irish at Gallipoli which I recorded during my time as the Keith Cameron Chair of Australian History in 2014.
Related posts: