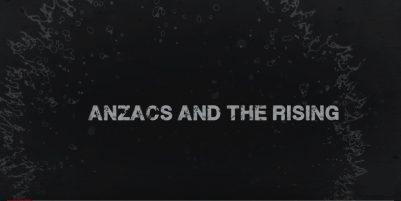 As 2016, the centenary year of the Easter Rising, draws to a close a new film has just been released about the Anzacs who were caught up in the fighting in Dublin. The film "Anzacs and The Rising" by Stephen Kearney focuses on the death of Gerald Keogh, a rebel messenger shot dead by Anzac soldiers posted on the roof of Trinity College. Among the Anzac sharpshooters was the Queensland-born son of Irish immigrants, Private Michael McHugh, a veteran of Gallipoli who was on leave in Dublin when the rising broke out.
The short film (22 minutes), which can be viewed on YouTube, includes footage outside Trinity College of the Anzacs in 1916 and of a ceremony held there on Anzac Day 2016 to unveil a plaque to Gerald Keogh. The ceremony was organised by Raymond Keogh (grand nephew of Gerald Keogh) and attended by Patrick McHugh (grand nephew of Pte Michael McHugh). At the ceremony Australian singer-songwriter Kevin McCarthy performed his song "Digger in Dublin", a moving account of the fatal shooting. The film also includes interviews with Noel White (Irish Ambassador to Australia 2011-2016), Raymond Keogh, Bill McHugh (nephew of Pte Michael McHugh), Patrick McHugh and yours truly.
You can read about the Anzacs in the Easter Rising in Anzacs and Ireland as well as in a short article I wrote for the Australian War Memorial's Wartime magazine. A longer version appears in the Journal of the Australian War Memorial. I have updated the research in a paper entitled "We personally had no quarrel with the rioters" which I gave at a conference on "The 1916 Irish Rising: Australasian Perspectives" held at Newman College, University of Melbourne, 7-8 April 2016. The paper recounts further stories of the diggers in Dublin and expands on the Australian involvement in the murder of Francis Sheehy Skeffington and two other journalists by Captain John Bowen-Colthurst. The paper identifies the unnamed Australian officer whose letter describing the event was published anonymously in the Melbourne Age in July 1916 and traces the Australian background of the unfortunate 2Lt William Dobbin, the officer in charge of the guardroom when Bowen-Colthurst ordered the journalists to be taken out of their cells and shot.
Related posts: